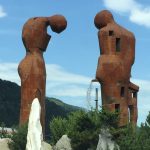 Welcome to the site and hopefully you will be able to find everything you are looking for and if you don't well leave me a comment and I will try to get it sorted for you.
The last Album – The Grey Palaces was a real departure from the norm for me and Silhouettes, when finished, will be of a similar vein but so far there are only four tracks completed so it may take a while yet.
However Done With You, a more traditional bluesy album is pretty complete and released 15th December 2018.
All of the six albums are distributed to all the main download sites like iTunes, Amazon, Google Play, CD Baby, Spotify, Shazam and more. In fact there is a link page of them later on this site.
My music is now also being played on Jango Internet Radio too !
Thanks for taking a look and if you want to leave me a comment, you can do it here, cheers.
Since the introduction of individual album music players we now have the full size music player with all tracks from all the albums to its own page